Woodbury Bathroom Renovation
Renovations are not easy to do because there are a lot of factors to consider for the project, such as layout, theme, and fixtures, among others. When you conduct renovations, especially for key areas like bathrooms, you will have to plan out how long the project should be, what items are needed, what functions should be present, and what bathroom can be used while the renovation is taking place. If this is your first time renovating your bathroom and you don't know where to start, let Long Island Kitchen & Bathroom Remodeling help you out.
Our Woodbury bathroom renovation is personalized to match your requirements and achieve that dream bathroom you've always wanted—functional, safe, relaxing, and modern. We know how expensive these renovations can get, especially when it comes to service costs and time that will be used to sort out the entire project. With us as your renovation company, any hesitations you may have will be resolved.
When we take over your project, we will ensure all your requests are met and that our services are affordable; from designing the layout of your renovated bathroom to handling even the maintenance of your bathrooms after renovation. We are committed to giving you bathrooms that are both functional and relaxing to use, adding value to your home that will surely last for the years to come.
Call Long Island Kitchen & Bathroom Remodeling at (516) 614-4274 for your Free Consultation with a Woodbury Bathroom Renovation expert!
Why Consider a Bathroom Renovation?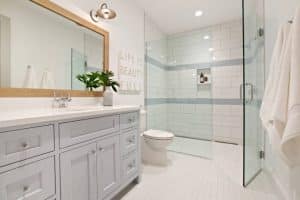 There are many reasons why you should consider getting your Woodbury bathroom renovation done. First, it helps your bathrooms stay efficient and match modern styles and functions. This is crucial for small homes where space is at a premium.
Long Island Kitchen & Bathroom Remodeling can assess what your space needs if you are considering a bathroom renovation project. Once we have all the information we need, we will discuss the plan with you and its benefits:
Safe and functional
Since it's regularly used, it's important that it's safe and functional to use at any given time. If it's been made for some time, it will slowly show signs of wear and damage, which can be expensive to repair or replace if you are unable to notice it immediately. When this happens, it will be unsafe to use and render the room unusable.
Old bathrooms can also use a lot more energy, especially in key seasons like summer and winter. Its decor may also affect your bathroom experience, disabling you from relaxing and cleansing yourself after a busy day of work.
At Long Island Kitchen & Bathroom Remodeling, we have a talented team of renovation experts who will make sure that the bathrooms don't only look visually appealing. They will also ensure that it is safe to use and take all your requirements into heart, guaranteeing 100% satisfaction each time you use your newly renovated bathrooms. We have the expertise, equipment, experience, and materials ready to renovate your bathrooms in the way you want them without breaking the bank.
Additional space and storage
Doing a bathroom renovation will help you see the hidden potential of your bathroom spaces and make them more efficient to use. You will also be able to modify its layout to match your design preferences and needs.
Long Island Kitchen & Bathroom Remodeling will check out your bathrooms and see what can be done to make them more functional and have more storage space as needed. We can guide you through the furnishings we can use for the renovations, as well as what layouts would work well for your intended purpose and need. Our full-service renovation service will not disappoint as the final product we will deliver is something you will be proud of for a long time to come.
Suitable for any condition
When doing a bathroom renovation, it is important to consider the needs of those who will use it. While it is ideal that it is appealing, it must also be practical. With bathroom remodeling, you can consider what to add to make the bathroom accessible to all, especially for your family members who have disabilities or are elderly. You can also renovate the bathroom to accommodate everyone in the family and ensure that it functions exactly as intended regardless of their preferences.
Woodbury

's Finest Bathroom Renovators
At Long Island Kitchen & Bathroom Remodeling, you are always guaranteed a personalized service that will achieve the things you want your new bathroom to deliver. Our personalized service also guarantees it will be both aesthetically pleasing to look at all the time and functional regardless of the size of the space.
Here are other benefits you will enjoy when you make us your partner for your Woodbury bathroom renovation:
Low Renovation Costs
We understand how expensive renovations can be, especially for key areas like bathrooms. The cost can even increase if there is an issue not immediately discovered, which will affect the entire project. Long Island Kitchen & Bathroom Remodeling is open to negotiations for the renovation cost and make it more affordable for you to avail. Even if you negotiate the price, we won't compromise the quality of our work and deliver it as discussed without any changes to match the final price.
We will also finish the job in a short period, reducing the possibility of you incurring additional costs.
Sustainability
Aside from lowering the cost of renovations, our personalized bathroom renovation service will also provide sustainable savings. We use sustainable materials that help speed up construction, as well as reduce the need for regular maintenance. Each piece will also contribute to reducing energy costs used in the space, especially during the winter season.
Planning is the very foundation of renovations.
If you know what you want for your bathroom and list them down for us to check, it will make the remodeling much faster to complete and achieve everything on the list. However, if you don't have a clear plan because you don't know what's best, don't worry. Our team is ready to provide support when you contact us and help you plan out your dream bathroom before we start working.
Contact us at any time, and we'll be very happy to take on the challenge.
Talk to the Experts
Long Island Kitchen & Bathroom Remodeling will make a bathroom renovation easier to avail and get it done quickly and efficiently. We'll also take all the stressful parts of the project from you, taking your preferences and opinions into account as we make your bathroom vision a reality.
Let our Woodbury, NY renovation company check out your space today, and we'll give you a stress-free renovation service you won't forget.
Call Long Island Kitchen & Bathroom Remodeling at (516) 614-4274 for your Free Consultation with a Woodbury Bathroom Renovation expert!