Woodmere Kitchen Countertops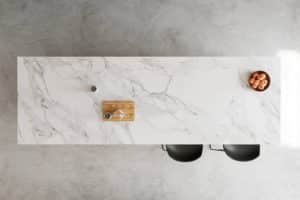 If you want to get the right kitchen countertop for your kitchen, you can reach out to us at Long Island Kitchen & Bathroom Remodeling. We can install one for your kitchen if you don't have one so far or if you want to improve your current countertop setup to make it more functional, or replace it with something that works.
Our service is not just restricted to Woodmere kitchen countertops. We can also remodel your kitchen to create an overall theme that will increase your kitchen's value and function. Simply let us know what you are hoping for, and we'll help you have a functional kitchen with working countertops while keeping it within your budget and timeline.
Call Long Island Kitchen & Bathroom Remodeling at (516) 614-4274 for your Free Consultation with a Woodmere Kitchen Countertop expert!
Why Should You Get a New Kitchen Countertop?
Kitchens are spaces where functionality is key in order for it to function properly. It must be designed with functionality in mind regardless of how much space is available.
Having countertops maximizes the kitchen's functionality by adding an extra space where you can prepare all your ingredients and reach them easily as you cook. It also adds beauty to the kitchen space by using it as a display area for your appliances.
It is very easy to install kitchen countertops, but if you want to add additional features or designs to them, it may take a few days before you can use them. There are also kitchen countertops available to match your maintenance preferences, as well as ones that fit your style preferences.
What to Consider When Getting Kitchen Countertops
If you are considering adding a kitchen countertop for your space, or if you have one, replacing it with a new one, you have to consider various factors in order for it to work flawlessly in your kitchen.
First, you need to consider what material the countertop should be. There are countertops made from natural stones, which are perfect for owners who want simple maintenance. Others are made from wood, which is affordable but requires constant maintenance and repairs. You can also avail countertops that are made from vinyl, recycled glass, resin, and laminate, which are both affordable and easy to clean.
Aside from the material, you will need to consider your requirements. If you do not need to use them often, you may be well-off with a cheap countertop. But, if you use the kitchen often, investing in natural stone countertops and other durable countertops may be the way to go. You will also need to determine your maintenance preferences because some countertops will require constant maintenance to protect them from damage.
If you are uncertain which type of countertop you should pick, don't hesitate to ask our Woodmere kitchen countertop experts. We can explain the differences between the types of countertops available and which materials they should be to match your requirements. Once we install them in your kitchen, we can help you maintain, replace or repair them when needed.
Free Consultation Today
Whether you have a small kitchen or a large one, it is crucial that you make it as functional as possible to make food preparation and serving much easier. There are efficient solutions available to maximize your space and give you an additional area to work on, and those are what we want to share with you.
With the help of our Woodmere kitchen countertops installation service, you will be able to increase your work and storage space in your kitchen with the help of well-placed countertops. We will make sure that it doesn't clash with your needs and style, as well as cost you a lot of money. Don't hesitate to ring us up today to find out how we can expand the function of your kitchens!
Call Long Island Kitchen & Bathroom Remodeling at (516) 614-4274 for your Free Consultation with a Woodmere Kitchen Countertop expert!